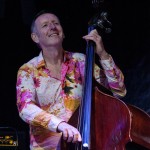 Eddie Lee is a bassist, composer and music producer from Sligo, Ireland. His career spans several decades as a sideman on electric bass and double bass, across many genres of music. He has made a major contribution, on many levels, to Sligo's thriving music scene, from being a founder member of NoCrows, Anything Goes, The Odd Couple, legendary 80's outfit Those Nervous Animals, a co-producer of CDs by NoCrows and Indian, to being the man behind one of Europe's most unique jazz festivals, Sligo Jazz Project and a founder of Sligo School of Rock. Eddie has been commissioned by the Arts Council for his compositions and as a sideman has toured, performed and/or recorded with many of Ireland's best known acts including Enya, Frances Black, Tommy Fleming, Stockton's Wing, Dervish, Louis Stewart, David Lyttle, Andreas Varady, Kieran Goss, The Pale, Katell Keineg and Dolores Keane. Eddie features on the 2015 Enya release, Dark Sky Island.
When he isn't performing in a Sligo venue or touring nationally & internationally with NoCrows, Eddie keeps busy composing music, and has a large repertoire of original tunes and songs.
Eddie was a founder member and bassist with the acclaimed Sligo soul/rock group Those Nervous Animals with whom he spent much of the 1980s. During the 1990s he spent several years living and working in Dublin, during which time he performed and toured the world with some of Ireland's top folk and mainstream acts: Stockton's Wing, Brian Kennedy, Dolores Keane, Frances Black, A Woman's Heart, Tommy Fleming. Eddie also gained a lot of pleasure from working with indie acts such as The Pale, Nine Wassies from Bainne and Katell Keineg, with whom he performed internationally in the mid-90s.
In more recent years, having developed his voice on the upright bass, Eddie has explored his love for jazz and improvised music, and along the way has performed with many great Irish and international jazz players including Andreas Varady, Louis Stewart, Ciaran WIlde, Myles Drennan, Kenny Werner, Cleveland Watkiss, David Lyttle, Michael Nielsen, Jean Toussaint and Sandro Gibellini. In 2005 he  co-founded Sligo Jazz Project, with the aim of bringing great jazz players to Sligo to teach and perform. It's annual event has grown into one of the premier events of its kind in Europe, if not the world, and Eddie remains its main driving force.
In recent years Eddie has been composing more and more, his compositions featuring mainly on NoCrows four CDs, but also was commissioned by the Hawk's Well Theatre in 2013 to co-write a suite of music with Northern Ireland drummer/composer David Lyttle, based on Sligo's wonderful archaeological landscape. The critically acclaimed Barinthus Suite was written on Sligo's Coney Island and premiered in July 2013 at Sligo Jazz Festival, featuring a 10-piece ensemble of jazz and traditional musicians, which included Kenny Werner on piano, Tyler Duncan on low whistle and Jean Toussaint on saxophone as well as co-composer David Lyttle. Though never renowned as a singer, Eddie has pitched in always on backing vocals – and also in 2013, Eddie exercised his vocal chords in spectacular style as a member of Dublin Gospel Choir's 100-strong choir, for Ennio Morricone's Dublin concerts.
++ Original Front Page ++
Eddie Lee is a photographer, bassist, teacher, producer, composer based in Sligo, Ireland. With a lifetime of experience in the music business, Eddie has been exploring avenues of visual expression, something he is thankful for with the loss of music work due to the Covid-19 pandemic. A lifetime of passion for Sligo, his homeplace, has inspired a portfolio of excellent west of Ireland landscapes.
Check out Eddie's photography on these forums:
instagram: @sligobass
facebook: @edleephoto
MUSIC
Eddie's long musical career began in the 80's with Irish pop band Those Nervous Animals and since then a very long and winding road has taken him from Ireland to USA, Australia and Japan with acts as diverse as Stockton's Wing and The Pale. He is living in Sligo and is Artistic Director of Sligo Jazz Festival and Summer School. His love for composing has only really come to the fore in recent years, with an Arts Council commission and several recordings to his name. This website is mostly about Eddie's compositions – check out the soundcloud and youtube links  to his music from the top menu.
Video: NoCrows: The Cosy Eye, recorded at Eddie Lee's "Hey Mr Bassman" concert at the Hawks well Theatre Sligo in 2014.